Open Chrome
Go into Z: and double-click on the Chrome shortcut for your class website. 

Set Chrome as default
If you see the yellow bar pop up, click on "Set as Default".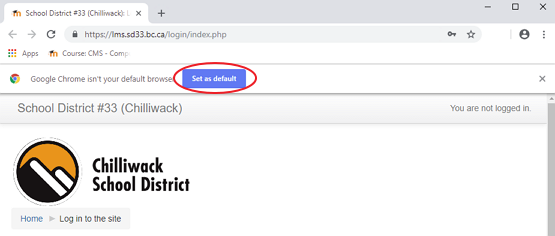 If your class website is in Moodle, first go here and log in to your class page, then come back and do the settings...
Chrome Settings
Now go to Settings on the top right...
Under On Start Up, select click on the "Open a specific page..." button - then click on "Set Pages".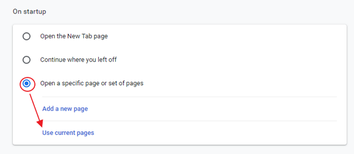 Click on the "Use current pages" button and say "OK".
You can also bookmark the page so it's easy to get back to. Just click on the star in the right side of the URL window.
In the window that pops up, you can change the name of the bookmark and click Done.
In Settings, check the box for "Show bookmarks bar" (alternatively you can get to the bookmark under the Settings list).
You can close the Settings tab.